As we are promoting South Indian food, we could not do it without talking about the street food. Street food is everywhere in India, from the Dhaba to the corn seller, you can find local and delicious food from every corner of the city.
So, for the ones who wonder… Yes, sometimes you have to close your eyes on the hygiene of street food. But if you refuse to try because of that you will miss something for sure. That is why today we decided to take you with us in the heart of Bangalore, meeting the ones who feed dozens of people a day, the time of a snack.
We went into the streets to meet them, to talk with them and trying to get a slice of their life stories. Ishana and Shreya talked with them in Kannada (local language) and Hindi, to make them comfortable. So, keep reading if you want to have more insight on what food you can find on Bangalore's streets, and if you want to know what the favourite food of the ones who feed us.
Meet Srivinas, this 43-year-old cook making Obbattu. Those sweet chapattis are one of the favourite snacks of the girls in Baale Mane!
They are mainly made of dal, jaggery, cardamom, and coconut. Obbattu is especially famous to eat on Ugadi where it makes a good combination for vegetarian meal.
Another Srivivas accepted to answer some of our questions. He has been a Sugarcane juice maker for the past 21 years. Sugarcane juice is a must to try in India as you can see plenty of them paving the roads. Indeed, sugarcane is a really famous beverage in India due to its health properties. It is rich in antioxidants as well as calcium, iron, and magnesium which helps in boosting your immune system and avoiding dehydration. It is recommended in case of fever, urinary tract infection and even bad breath!
And as he asked us to precise: he is not dirty, it is the machine's fault not his if his shirt is all dark. Every time he is using it, the oil that comes out soil his tee-shirt.
Here we have Ajay. He is a young adult of 20 years old, he has been selling Pani Puri for the last 3 years, and even if he sells it every day, it remains one of his favourite food.
Pani Puri is one of the most famous street foods, everybody can relate to this name but throughout India, it can be called differently as Pakodi in Gujarat, Gup Chup in Odisha or Fulk in Madya Pradesh. And if you want a literal English translation, you will end up calling that "water in fried bread" or mostly "crisp sphere eaten" due to the form and the way of eating it.
Pani Puri is made of the Puri (the fried bread that holds the filling and the Pani). This is made of rava, maida, salt and water. The filling is a mix of potatoes (or aloo), chickpea (or channa), red chili powder, green chili onions, chat masala coriander and salt. The Pani is composed of tamarind, jaggery, black salt, chili, dhania and cumin powder, green chilies, mint, coriander, and of course, water.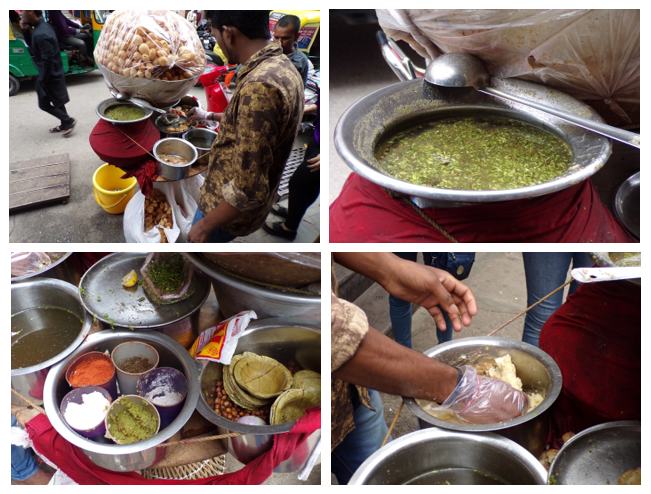 The way of eating it is to break the Puri, to put the filling inside, to add the Pani and to crunch and swallow in one go!
If you want to look for Pani Puri on the web, now you can watch a bunch of buzz video denouncing some really non-hygienic practices of making and selling them. But, what we tend to forget is that Pani Puri can be used as medicine, as it is thought to cure mouth ulcer and help with acidity problem – if you are willing to have more fats and body heat in counterpart!
Story, Pictures & Design by Morgane F